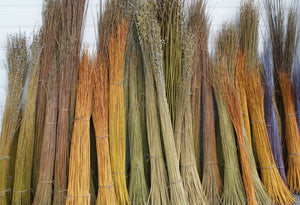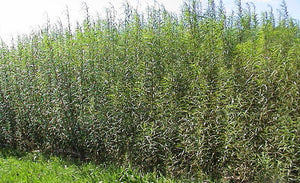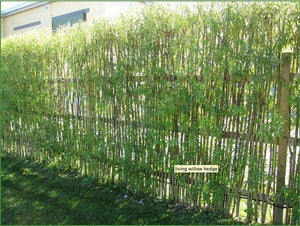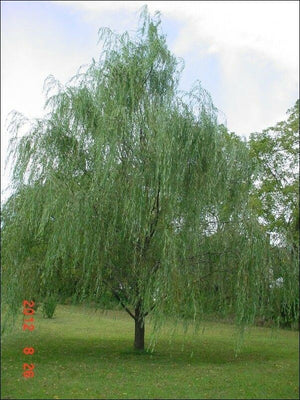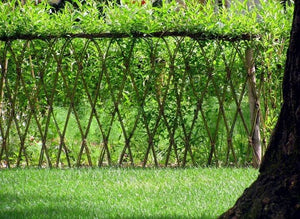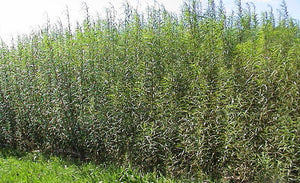 Willow Cuttings 100 ~9'8" ft / 3m -hedging,screening,living structures
Salix Viminalis Hybrid Super willow is one of the fastest growing willow varieties.
We grow 12 variants of this hybrid willows, some are more suitable for biomass, basket making, hedges, acid or alkaline soil.  If you have a preference, please let me know.
It is a hardy and vigorous willow producing long green to dark brown later in the winter straight stems of approx. 8-12ft after its first year.
Many uses including basket making, living structures, furniture, windbreaks and bio-fuel.
The cuttings are almost 9'8" (or thereabouts) feet / 3.0 meter long.  Due to the length of these, the postage costs are high, collection however is free of charge.
Many of our delighted customers have previously tried, failed and wasted a year of growth with the 9" - 12" long cuttings.
Having a longer cutting gives you more to push into the ground to encourage a better root system and more above the ground to grow leaves and compete with weeds, these long cuttings give youy by far the best chance of thriving willows.
The pictures are from last year but they give you an idea of the colour etc.... the willow will be freshly cut before posting.
We can supply any length you need but over 1 meter gets more costly to post.  
Collection by yourself or a courier is of course free of charge.
Planting couldn't be easier.
We grow over 100,000 willows on our farm so please ask if you have any questions.
....
Please note, the shipping/postage price is for the majority of the mainland UK, it does not cover many of the islands or the highlands.
Please get in touch to confirm the total price if you are not sure.