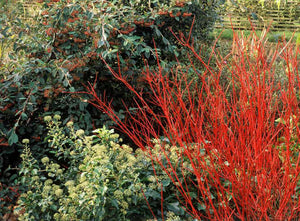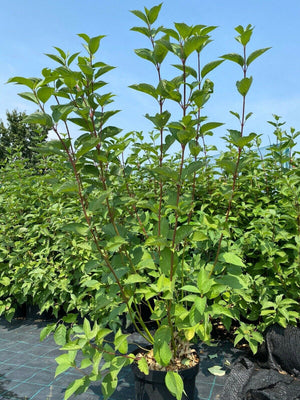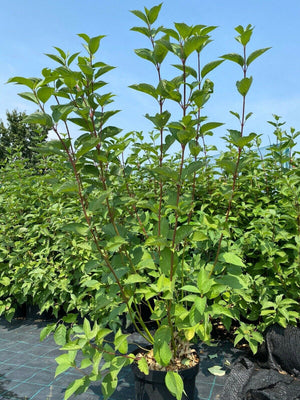 Multistem Cornus Alba Sibirica Red Dogwood 5ft Tall in 10 litre pot
Striking red bark lights up the winter garden  
Beautiful, variegated foliage in the summer, fiery, red stems during the winter. 
This Cornus does offer a lot of value, all year round
Good in most soils, this tree is hardy, and will prevail through most winters quite easily.
It needs very little work, and as such, is an interesting plant to watch grow. 
 Variety Information: 
 Habit: Bushy 
Foliage Colour: Cream and green variegated 
Features Variegated foliage, Unique Architectural Form, Red Bark 
Size Information:  Supplied in a 10L Pot Height on Arrival  ~5ft tall with multiple stems.
Eventual Height & Spread:  3m x 3m (9ft x 9ft) 
The key is to regularly water newly-planted trees, at least bimonthly for two months. It is also important to ensure you choose a location where your tree has enough space, which you can calculate from a variety's eventual height and spread. With potted trees, ensure the pot sits no lower than an inch below ground. Dig a hole twice the radius of the rootball. Stake your tree no more than 2-3 inches from the stem, pointing away from the prevailing wind. Fill the hole with a mix of compost and garden soil, and add fertiliser and mycorrhizal fungi. Do not compress the soil. 
Please note: The item you receive might look different to the picture due to the nature of the item and the time of year.