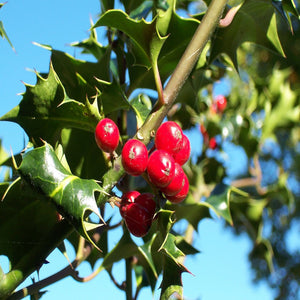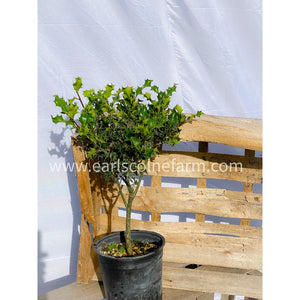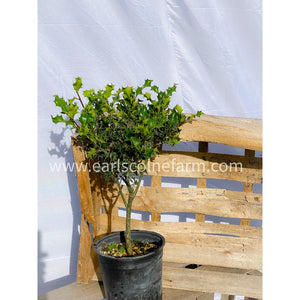 Holly Tree 2-3ft Tall in 2.5L Pot (Ilex aquifolium)
Holly Tree / Shrub (Ilex aquifolium) - a valuable evergreen plant for an array of wildlife. Native to the UK and grown in Scotland.
The shiny dark green leaves contrast against the white flowers which bloom in spring/summer and followed by scarlet berries in autumn and winter. Did you know the mistle thrush is known for vigorously guarding the berries of holly in winter, to prevent other birds from eating them!
Grows to a max height of 15m Grows best in a well-drained soil in a sunny position; also suitable for partial shade The flowers provide nectar and pollen for bees and other pollinating insects. Fully hardy Holly provides dense cover and good nesting opportunities for birds, while its deep, dry leaf litter may be used by hedgehogs and small mammals for hibernation.
Supplied trees are between 2-3ft tall. 
The second picture shows one of the actual trees we have in stock as of august 2020
Please note: your item might differ slightly from the photo due to the nature of the product as well as the time of year.