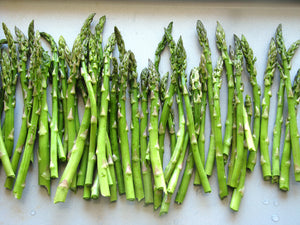 6 ASPARAGUS PERENNIAL COMMERCIAL QUALITY PLANTS IN POTS
Description
 
Asparagus can yield for 12 years or more, you will be sent a mix of varieties to give you a longer season.  These are sent in their pots which means you can choose when to plant them out, you may of course choose to grow them in pots...
 
Harvest
You will be able to cut your spears in spring
Growing Instructions
Plant Asparagus and plant 40cm apart in a sheltered but sunny position in well drained soil. Good drainage is a must for Asparagus. A top dressing of fertiliser is recommended. Keep well watered until established and in dry weather. They will soon start to produce new spears, leave them to grow into skinny feathery like spears and once autumn arrives they will turn yellow and you can then cut them back to ground level. The same thing will happen the following spring, they are best just left and kept weed free until the 2nd year when you will have a few more to pick. Then after the 3rd year you wont know what to do with them all! If you in in heavy soil the best way is plant them on flat ground in a row, then in the spring, just as they start to poke through the soil, take a fork full of soil from either side of where the asparagus is and put it on top of the asparagus, creating a mound. This will help stop the asparagus getting water logged, as the water will naturally fall down into the channel you made and will warm the soil up quicker around them.