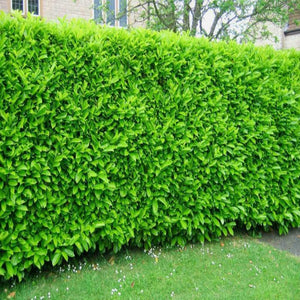 30 Cherry Laurel Hedging Plants 35-50cm tall grown in deep pots
30 Cherry Laurel Fast Growing Evergreen Hedging Plants 35-50cm grown in Pots.
Laurel is a vigorous evergreen shrub with oval-shaped bright shiny green leaves.
It forms a dense hedge of any height on most soils but not shallow chalk and will give up to 60cm growth each year.
For the care of the Cherry Laurel, we recommend to keep the foliage moist throughout the cold and windy weather - this will keep the plant hydrated.
Common Name: Cherry laurel 
Genus and species: Prunus 
laurocerasus rotundifolia 
Exposure: Full sun, Partial shade 
Hardiness: Hardy 
Preferred soil type: Well-drained/light, Dry 
Height: 4m 
Width/Spread: 1.5m 
Spacing for a hedge: 3 plants per meter
We grow these trees in pots which are deeper than 10cm pots but we do not send the actual pot with the plant.
The height of the plant is taken from the bottom of the roots to the top of the foliage.
Please note: your item might differ slightly from the photo due to the nature of the product as well as the time of year.