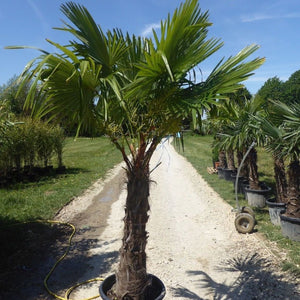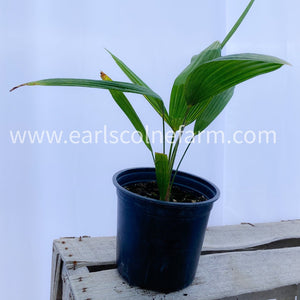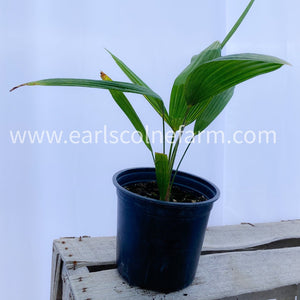 Chinese Windmill Palm Plant in 1.5L pot 20-40cm (Trachycarpus Fortunei)
A fantastic plant for those looking to create that tropical/Mediterranean effect. 
Native to Myanmar and China, this beautiful palm was introduced (for the second time ) in 1849 by Robert Fortune. Large deeply toothed palm fronds are arranged in a fan shape around the top of the plant and the fiberous trunk is thickly clothed with the old leaf bases. 
Terminal decurved panicles of yellow flowers are produced in summer on mature plants, generally those with in excess of 1 mtr of clear stem. Dark shiny blue black seeds can be produced in abundance. 
This is one of the only palms hardy enough to survive in the UK without protection however the larger the plant the hardier they are. The plants you are buying here are well established in 1.5L pots.
While they can be planted outside I would not advise doing so. Pot on into a bigger pot of approximately 3 ltr size with a good quality slow release fertilizer and grow on under cover in the winter until the trunk is around 30cm. If growth is slow pot on into a 5ltr pot. 
Well cared for in a sunny location/greenhouse young plants grow quite fast. Harden off and plant out, but still give protection in harsh winters until the trunk is 1 mtr. A location sheltered from harsh winds will reduce damage to the fronds. The warmer and sunnier the location the quicker they will grow and the larger the head of leaves.
Second picture shows an example of one of our actual plants. Please note however that the plant you receive might not be identical due to the nature of the plant and dependant on the time of year.