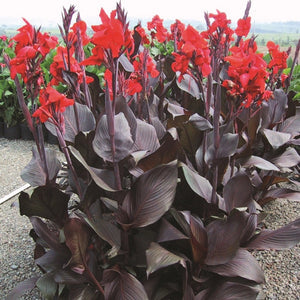 Black Canna Lily Plant in 1L Pot
Canna are wide spread across the tropics and are cultivated in many temperate gardens. 
Although commonly referred to as a Lily they are not Lilies, but are the sole members of their own genus, Cannaacea and are related to Bananas and Gingers.
In the tropics they are frequently grown for the food value of the tubers, however here we use them for their huge, tropical, beautifully coloured leaves. Some of the latest cultivars, such as the Tropicana series, have also been bred for their exotic and colourful flowers. 
A superb summer garden plant for border or patio that can be kept from year to year if the tubers are protected from frost and wet. Best lifted, cleaned and stored in a dry, cool, frost free location with just a little moisture. 
Canna Tropicanna Black has splendid broad, near black foliage, which is suffused with traces of plum and red, heads of dazzling scarlet flowers that fade to orange as they age are produced from June to September. This plant can be used as a specimen, in groups, in a mixed planting or in a container. If planting in a pot or other container. Use a good quality compost. Ensure you feed regularly as a hungry plant is a poor performer. We recommend Osmoscote pro 5-6 month applied in the early spring. One application gives all the nutrients the plant requires for the whole year. Please Note: These are not plugs or dry tubers. They are well established plants propagated by tissue culture. Second picture shows one of our actual plants in its 1L pot. Please not however that the plant you receive might not be identical due to the nature of the plant and depending on the season.