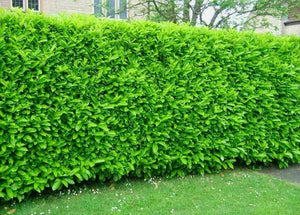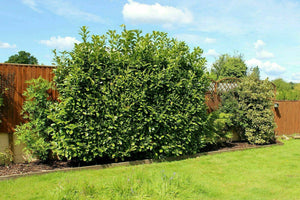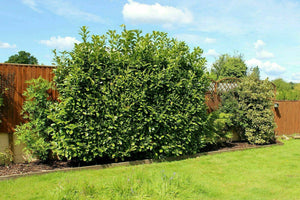 50 Cherry Laurel Evergreen Tree in 10L Pot 5-6ft
50 * Cherry Laurel Evergreen Tree in 10L Pot 5-6ft not bare root shrubs
Delivered to SL postcode area
Laurel is a vigorous evergreen shrub with oval-shaped bright shiny green leaves.
It forms a dense hedge of any height on most soils but not shallow chalk and will give up to 60cm growth each year.
For the care of the Cherry Laurel, we recommend to keep the foliage moist throughout the cold and windy weather - this will keep the plant hydrated.
Common Name: Cherry laurel 
Genus and species: Prunus 
laurocerasus
rotundifolia

 
Exposure: Full sun, Partial shade 
Hardiness: Hardy 
Preferred soil type: Well-drained/light, Dry 
Height: 4m 
Width/Spread: 1.5m 
Spacing for a hedge: 2-3 plants per meter