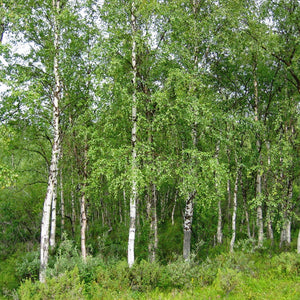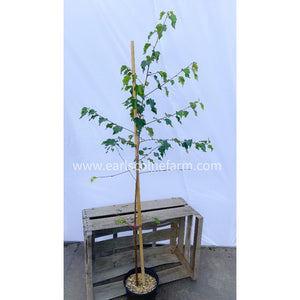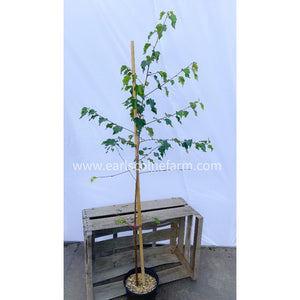 4-5ft Silver Birch Grown in a 2.5l Pot (Betula Pendula)
1 Silver Birch Tree 4-5ft Tall in a 2L Pot   
Betula pendula is a medium deciduous tree, typically reaching 15-25 m tall, exceptionally up to 39 m!  
With a slender crown of arched branches and gorgeous drooping branchlets. 
Growing Details:
Common Name: Silver birch 
Genus: Betula 
Species: pendula Skill 
Level: Beginner 
Exposure: Full sun, Partial shade 
Hardiness: Hardy 
Soil type: Well-drained/light, Clay/heavy, Acidic, Moist, Sandy 
Height: 2500cm 
Spread: 1000cm 
Description: The plain silver or common birch, sometimes called 'the lady of the woods' because of its outstanding elegance, is a great landscape feature, especially in autumn and while still young - older trees can become enormous, but without dominating or shading the garden too much. When planted 60cm (2ft) apart, the trees make a fine hedge, or may be grown 2.4m (8ft) apart as a screen or windbreak, which can be trimmed each winter. Growth is upright, later slightly weeping, especially the young outer stems. Trim shoots off the trunk to reveal the attractive bark. 
Deciduous trees shed their leaves as an active process that evolved to conserve resources and protect the tree from being blown over in the windier winter months. Some birch trees turn yellow due to temperature changes in the summer / early autumn. There is nothing to worry about. The trees will re-grow the foliage again in the spring time.
Second picture 
shows an example of the plants we have in stock. Actual plants may differ depending on time of year and due to the nature of the plant