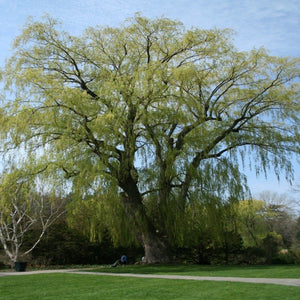 3 Fast Growing Willows With Roots in Deep Pots
You are buying three young willow trees, around 12"/30cm in height, each with its own root system in soil, we do not send the physical pot with these trees.  They are ideal for growing on in larger pots or direct in the ground and they may average 2-3 metres when mature.
Their summer display is a lovely lime green, these beautiful trees grow quickly, but only to approx 15 feet tall after 3-4 years or so if in the ground.
The picture used is a mature tree that has been growing for some years, this is not the size of tree you will receive.  Sorry if this seems obvious but we do get asked.
They look fantastic on or near water features.
Willows lose their leaves over winter.
Once mature,these trees will provide a magnificent display and focal point for your garden.
They are quite fast growing but are not large trees and will grow happily in pots, near ponds, in the ground and can be used to dry out boggy land, strengthen banks or as fast growing screens/windbreaks or make a focal point in the garden.
Available in bulk in winter for creating hedges or ornamental structures.  Please ask for details.