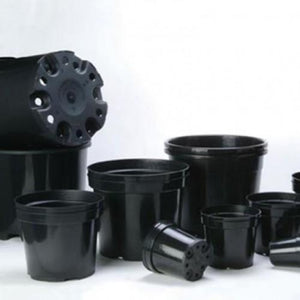 Packs of 10 Black Plastic Pots 9CM, 1L, 1.5L, 2.5L and 10L
Black Plastic Pots 9CM, 1 1.5 2.5 10 Litre
Just choose what size you want!
These are made from a hard wearing and durable co-polymer plastic which makes them very Long Lasting.
We don't just sell plant pots, we also use them and have been using this specific pot type for many years, many of our pots get used time and time again in a commercial environment.
Ideal for propagating or planting and displaying saplings, plants or flowers, also very popular for hydroponics.
Available in a range of sizes from 9CM all the way up to 10 Litres
9CM pots - 9CM across the the of the top - 12CM across the top diagonally - 10.5CM high
1L pots - 11CM across the edge of the top - 15CM across the top diagonally - 11.5CM high
1.5L pots - 15CM diameter across the top - 12.5CM high
2.5L pots - 17CM diameter across the top - 16CM high
10L pots - 29CM diameter across the top - 21.5CM high